DISTINGUISHING FEATURES
Optimal
power-to-weight ratio
Extreme performance
with Race Mode
Advanced assistance
features that enhance
control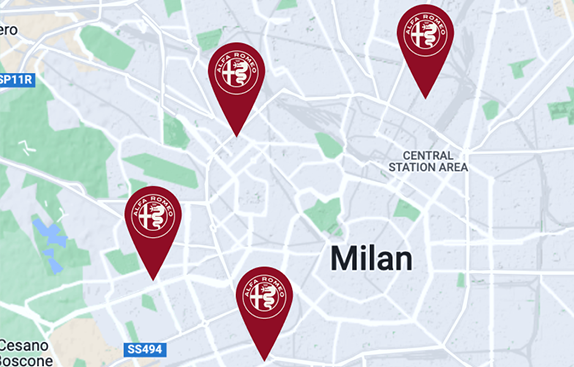 How to buy your Giulia Quadrifoglio
Buy in-store
Find the nearest dealer or leave a contact to schedule an appointment.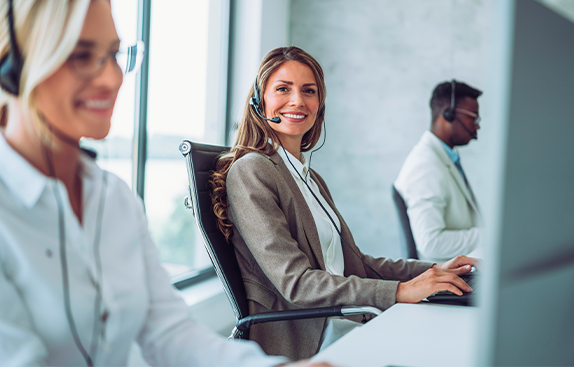 How to buy your Giulia Quadrifoglio
Buy online with our experts
Chat or call, Monday to Friday from 09:00 a.m. to 6:00 p.m. and Saturday from 10:00 a.m. to 6:00 p.m.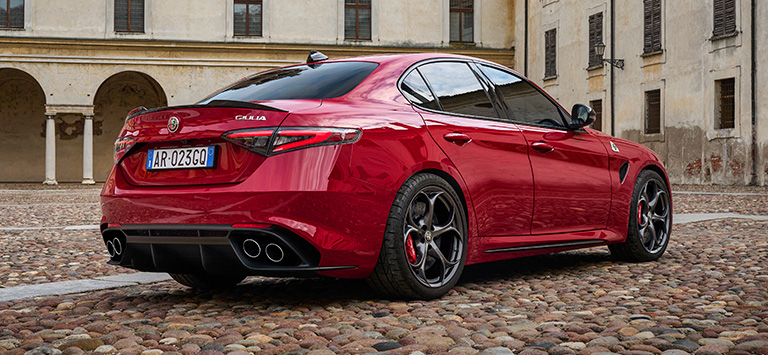 The distinctively sporty traits of the Giulia Quadrifoglio highlight its bold and daring attitude.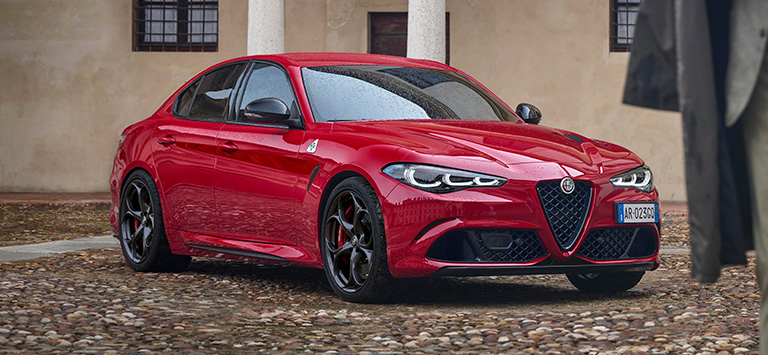 The perfect combination of style and technology, the Full-LED Adaptive 3+3 headlamps offer excellent illumination in every condition and display our Brand's unique visual signature.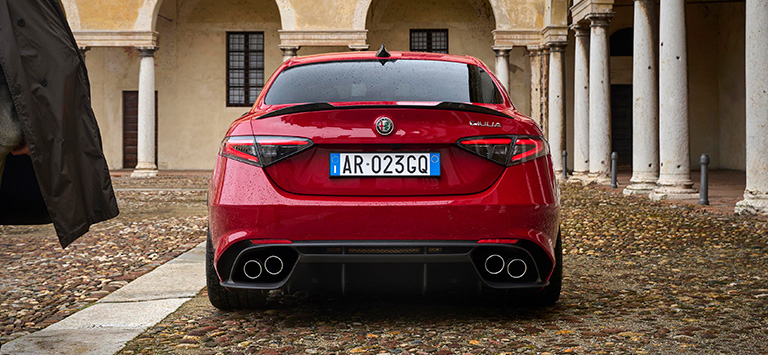 The iconic shape of the rear lights brings out the renowned sporty nature of the Quadrifoglio.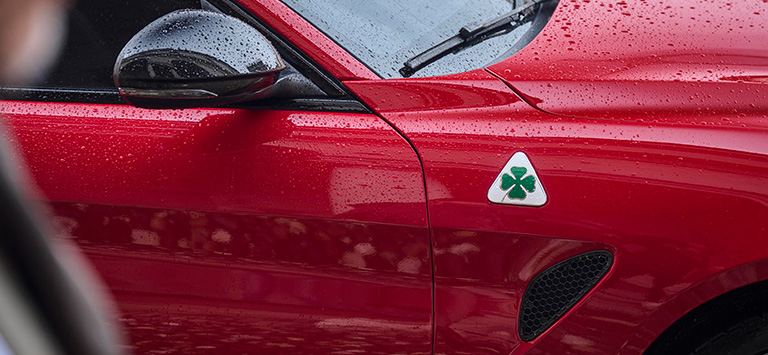 The silver, white, and green Quadrifoglio symbol reflects our Brand's exciting racing heritage.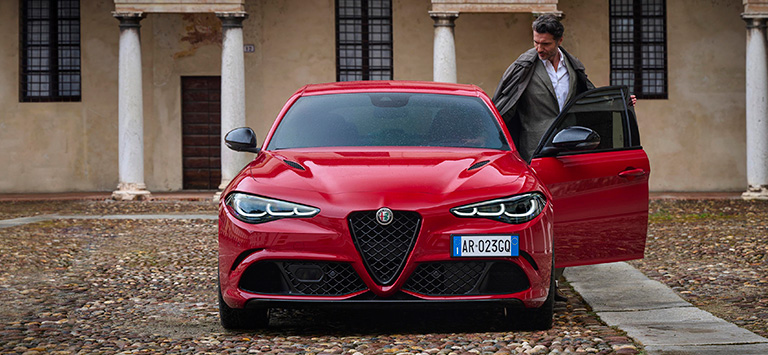 The unmistakable Alfa Romeo front V-Shield Scudetto grille features polished dark miron details. The dedicated front bumper and air vent design bring out the audacious character of Giulia Quadrifoglio.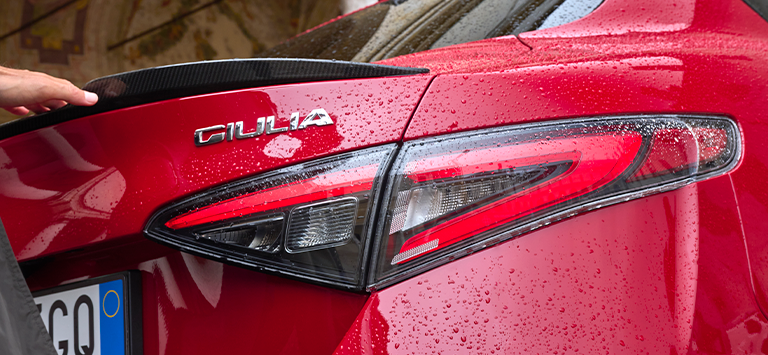 The carbon fibre rear spoiler gives the Giulia Quadrifoglio a dynamic racing look and highlights its sporty character.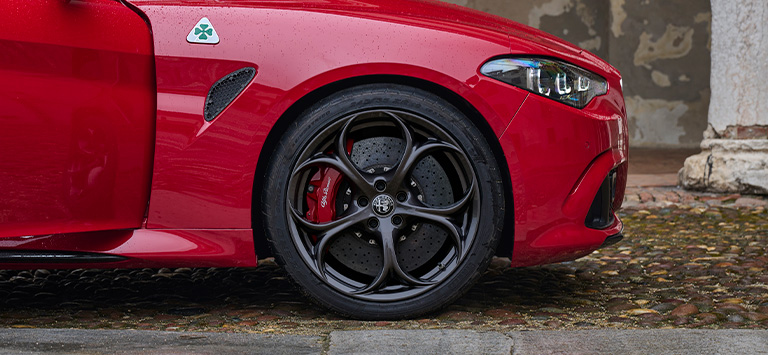 The 19'' Dark Five-Hole Sport Alloy Wheels are available with a burnished finishing and optional red carbo-ceramic brake calipers*.
*Standard red brake calipers are always available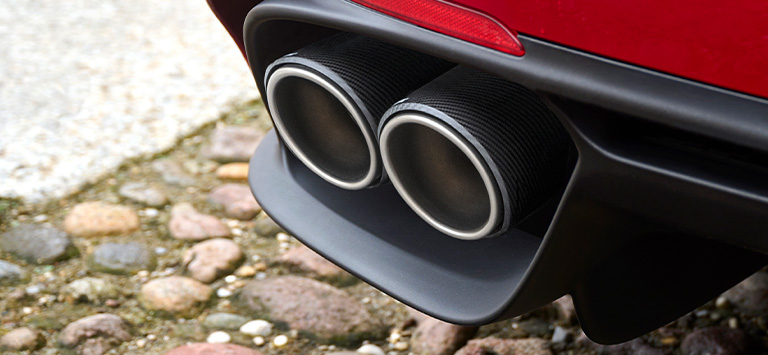 The optional premium Akrapovic four-tip exhaust system integrates seamlessly into the rear bumper. Available as an option.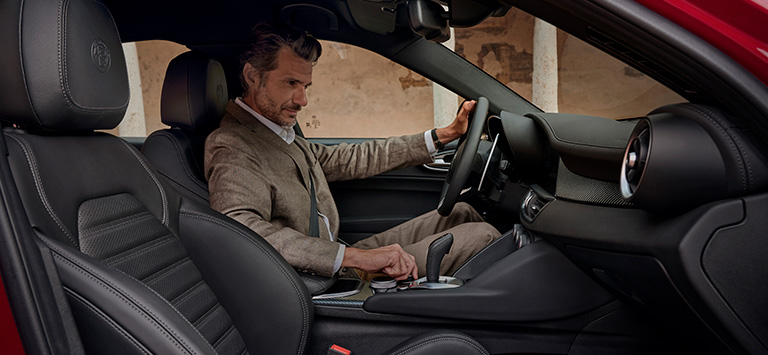 The Giulia Quadrifoglio dashboard, center console, and door panels feature the new 3D textured carbon fibre.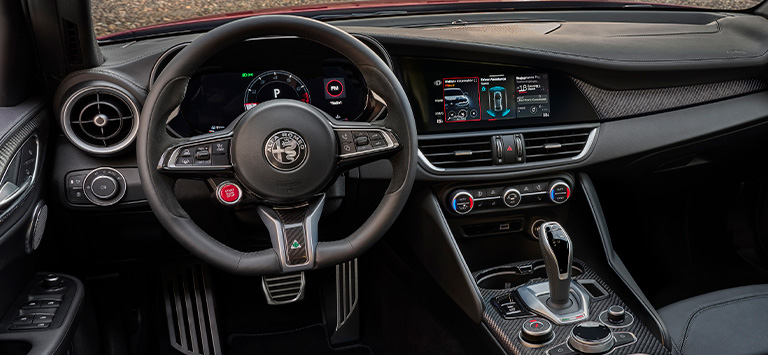 The race-inspired aluminum pedals allow the driver to control the Giulia Quadrifoglio confidently in nearly any situation.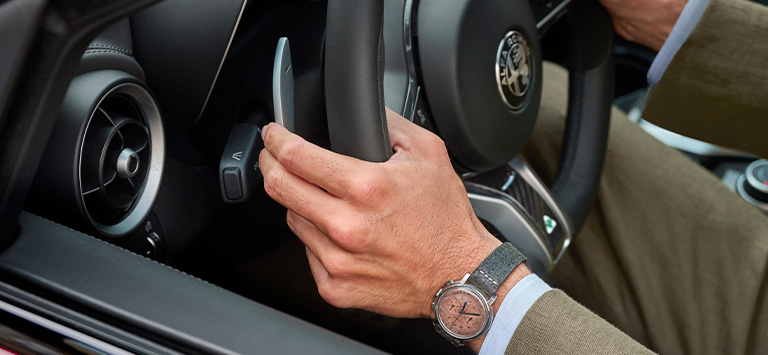 Highly responsive aluminium racing paddle shifters make changing gears incredibly quick and intuitive on the Giulia Quadrifoglio.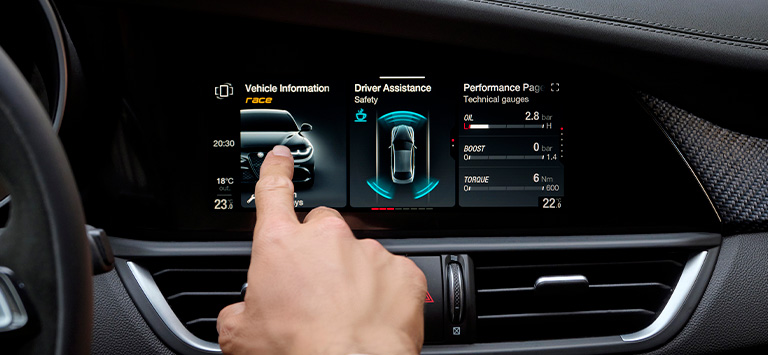 The intuitive 8.8-inch multitouch display provides flawless interaction.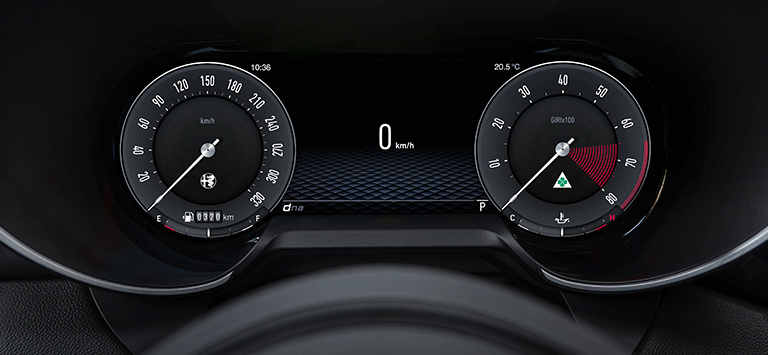 The all-new fully digital 12.3'' customizable instrument cluster features four different layouts: Evolved, Relax, Heritage, and Race.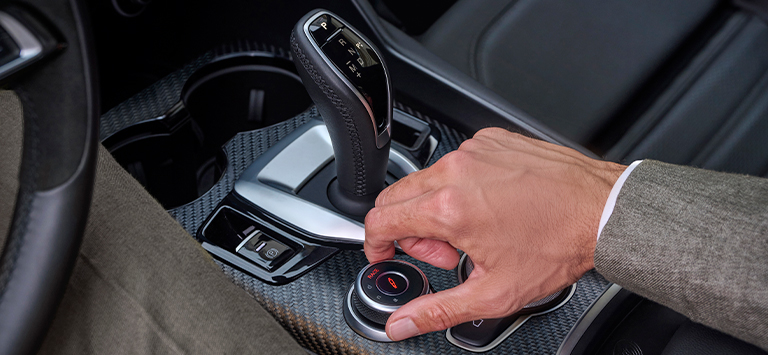 Along with the iconic DNA Drive Mode Selector, the center console features a new 3D textured carbon finish trim, a leather-wrapped gearshift and a wireless charger.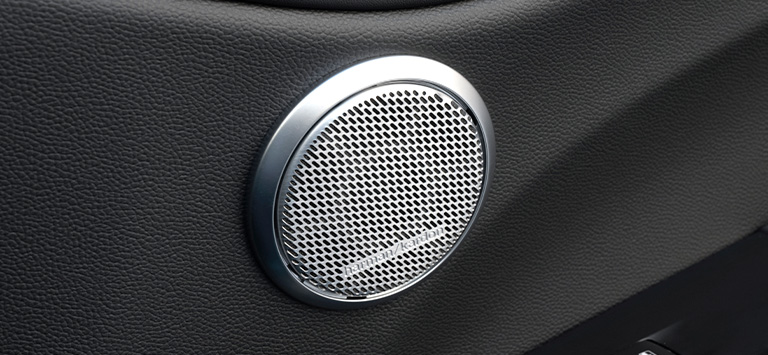 Onboard the Giulia Quadrifoglio is the Harman Kardon® Premium Audio System, which boasts 14 speakers and a powerful subwoofer that delivers outstanding sound quality and allows for an immersive listening experience for your most cherished playlists.
Technology
Innovative solutions, pure thrills
The latest technology drives the Alfa Romeo Giulia Quadrifoglio. With sport-tuned handling and performance, driving feels even better.
Disclaimer
*Connect PLUS is available at no additional cost for the first 36 months starting from the warranty start date. My Alert and My Wi-Fi will not change. For all new vehicles ordered starting from 1st of May 2023, My Assistant will be included in Connect ONE pack, the price of which is included in the vehicle price. My Remote, My Car, My Navigation and My eCharge will become Connect PLUS, that needs a specific Customers subscription.
In addition, thanks to My Alfa Connect mobile app, you can access partner offers and insurance benefits linked to your vehicle's telematic data.
For more information click here.




Engine
THE POWER OF PERFORMANCE
The optimal blend of power, performance and technology, the Giulia Quadrifoglio sports an aluminum twin-turbocharged V6 engineering marvel that outputs 520 horsepower through a ZF eight-speed automatic transmission.
Disclaimer
Fuel consumption Giulia Quadrifoglio Range (l/100 km): 10,1; CO₂ emission (g/km): 229 - 228. Type approval values determined on the basis of the WLTP combined cycle, homologated as of 14.06.2023. The values indicated are for comparative purposes.

The Giulia Quadrifoglio is 4,639 mm long, 2,-24 mm wide, and 1,433 mm tall. The boot has a capacity of up to 480 litres.
Customer service
Rely on our team
A dedicated support service will answer all your questions and guide you through every step of the purchasing process.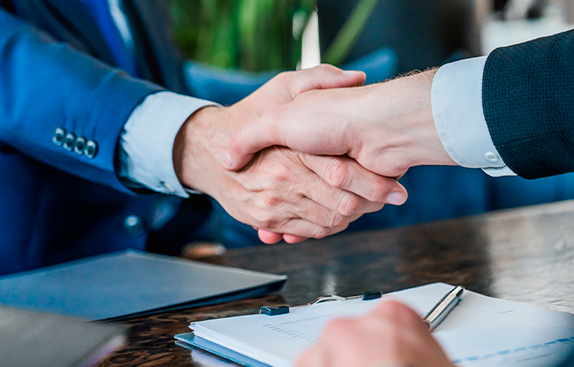 Financial Services
PURCHASE SOLUTIONS
Find a wide range of financial services and insurance products for the purchase of your Alfa Romeo.